^_^ Say YES Say NO *o*
"Have you ever wondered what your LIFE would be like NOW if you have said YES or NO to all the DECISIONS that you have made either consciously or UNCONSCIOUSLY throughout your existence on this magnificent planet?" - HCW
Saturday, September 20
I am nasty when necessary, says Dr. M
http://www.theedgemalaysia.com/political-news/308122-i-am-nasty-when-necessary-says-dr-m.html
Posted by

HCW
at 5:56:00 PM
No comments:
Links to this post


Dr. M: Outflow of funds from Malaysia Worrying
http://www.theedgemalaysia.com/highlights/308169-highlight-dr-m-outflow-of-funds-from-malaysia-worrying-hl.html
Posted by

HCW
at 5:38:00 PM
No comments:
Links to this post


Wednesday, September 3
http://www.fastcompany.com/3034928/the-future-of-work/why-you-need-to-stop-thinking-you-are-too-busy-to-take-breaks
WHY YOU NEED TO STOP THINKING YOU ARE TOO BUSY TO TAKE BREAKS
INSIDE THE SCIENCE OF WHY TAKING BREAKS CAN MAKE YOU HAPPIER, AND MORE FOCUSED AND PRODUCTIVE. STILL THINK YOU'RE TOO IMPORTANT?
I know you don't want to take a break right now.
Why? Because you're too busy. This post is probably one of more than a few tabs you have open on your browser or phone. Your to-do list is likely close by and packed with tasks.
Sometimes we know there's a better way to do things, but we're just so busy we don't even think we have the time to find it--so we keep going like we always have.
That's how I saw things, too. And then I discovered the power of taking breaks at work. They made me happier, more focused and more productive--and I bet they can do the same for you, whether you're in the corner office or a cubicle.
Come along and discover the science of why we need breaks at work, how to create your own master schedule and what to do on your hard-earned break.
When you're really in the groove of a task or project, the ideas are flowing and you feel great. But it doesn't last forever--stretch yourself just a bit beyond that productivity zone and you might feel unfocused, zoned out or even irritable. What changes?
Basically, the human brain just wasn't built for the extended focus we ask of it these days. Our brains are vigilant all the time because they evolved to detect tons of different changes to ensure our very survival. So focusing so hard on one thing for a long time isn't something we're ever going to be great at (at least for a few centuries).
"…Deactivating and reactivating your goals allows you to stay focused," he said. "From a practical standpoint, our research suggests that, when faced with long tasks (such as studying before a final exam or doing your taxes), it is best to impose brief breaks on yourself. Brief mental breaks will actually help you stay focused on your task!"
Our brains have two modes: the "focused mode," which we use when we're doing things like learning something new, writing or working) and "diffuse mode," which is our more relaxed, daydreamy mode when we're not thinking so hard. You might think that the focused mode is the one to optimize for more productivity, but diffuse mode plays a big role, too.
Some studies have shown that the mind solves its stickiest problems while daydreaming--something you may have experienced while driving or taking a shower. Breakthroughs that seem to come out of nowhere are often the product of diffuse mode thinking.
"When you're focusing, you're actually blocking your access to the diffuse mode. And the diffuse mode, it turns out, is what you often need to be able to solve a very difficult, new problem."
When you work on a task continuously, it's easy to lose focus and get lost in the weeds. In contrast, following a brief intermission, picking up where you left off forces you to take a few seconds to think globally about what you're ultimately trying to achieve. It's a practice that encourages us to stay mindful of our objectives…
OK, so we know taking breaks is a scientifically proven method for regaining our focus, sharpness and motivation. But taking a walk or a reading break in the middle of a workday? Can we really get over how guilty that'll make us feel?
And that's with 90% of the bosses surveyed saying that they encouraged breaks and 86 percent of employees agreeing that taking breaks makes them more productive! It's become normal to think that if you never take a break from work, you'll get more done, get promoted and be more successful.
"Idleness is not just a vacation, an indulgence or a vice; it is as indispensable to the brain as vitamin D is to the body, and deprived of it we suffer a mental affliction as disfiguring as rickets…It is, paradoxically, necessary to getting any work done."
Ready to try breaks at work but not sure how to implement your schedule? Here are a few methods you might consider.
Working in such compact time periods helps you get rid of distractions and focus more intently. I found that having a finite beginning and end to each chunk of work gave me a little edge of urgency–I closed out tasks more quickly and made the "little decisions" faster because I knew the clock was counting down.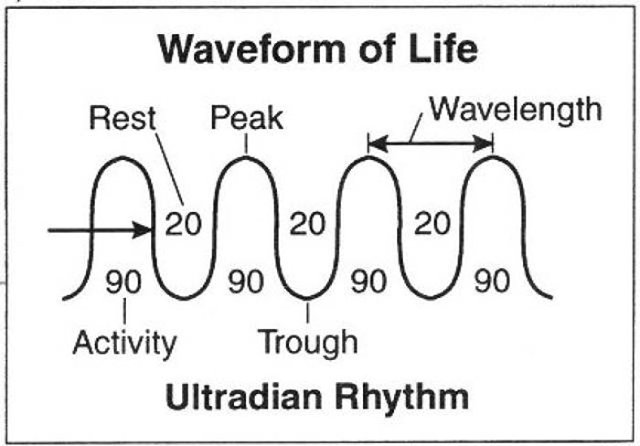 "To maximize gains from long-term practice," Dr. Ericsson concluded, "individuals must avoid exhaustion and must limit practice to an amount from which they can completely recover on a daily or weekly basis."
A third option: split the difference between Pomodoro and 90-minute blocks with what recent research indicates could be the most productive schedule of all.
The reason the most productive 10% of our users are able to get the most done during the comparatively short periods of working time is that their working times are treated as sprints. They make the most of those 52 minutes by working with intense purpose, but then rest up to be ready for the next burst. In other words, they work with purpose.
If a time-blocked day doesn't appeal to you or work with your job, consider a simpler but still quite effective solution: blocking out two planned, 15-minute intermissions in your day—one in the mid-morning and the other in the mid-afternoon. Around 3 p.m. is the least productive time of day, so definitely don't skip that break!
So you've realized the importance of breaks and added them into your day--hooray! Now: How to spend your well-deserved break? Here are a few suggestions, each with proven benefits!
A 20-minute stroll can increase blood flow to the brain, which can boost creative thought. Regular walks can enhance the connectivity of important brain circuits, combat age-related declines in brain function and improve memory and cognitive performance.
If your workplace is super progressive, you can enjoy tons of benefits from even the tiniest midday nap. A nap of even 10 minutes has been shown to improve cognitive function and decrease sleepiness and fatigue.
We're big believers in naps at Buffer–you can catch a glimpse of the bunk beds for napping in Buffer's office in this photo of Buffer founder Joel:
Exercise
One of the most powerful ways to relax your brain in a short amount of time is a session of meditation. In the image below you can see how the beta waves (shown in bright colors on the left) are dramatically reduced during meditation (on the right).
On a nice day, spend some time outside during your break–and try to find more natural and less urban settings. Spending time in nature is good for your immune system and has been shown to improve focus and relieve stress.
Especially if you look at a screen most of the day, your eyes could use a break. Use the 20-20-20 rule: Every 20 minutes, take a break for at least 20 seconds and look at objects that are 20 feet away from you.
Do you take breaks regularly during the day? If so, what's your schedule like and how do you use your break time? I'd love to hear from you in the comments!
Posted by

HCW
at 9:14:00 PM
No comments:
Links to this post


6 POWERFUL COMMUNICATION TIPS FROM SOME OF THE WORLD'S BEST INTERVIEWERS
LISTENING INTENTLY ISN'T JUST FOR JOURNALISTS. HERE'S HOW TO SHARPEN YOUR INTERVIEWING SKILLS TO GET THE MOST OUT OF YOUR CONNECTIONS.
You've already covered the usual small talk and then, oof, you hit a dead end. What now?
Writers, journalists and others who interview sources regularly have developed tried and true techniques that help them connect deeply with people.
"I feel really lucky that I know how to talk to people now, because I've talked to so many people and I know how to get a conversation going. Because I used to be really shy and would have been very uncomfortable doing that."
These six communication tricks from legendary interviewers can help you conduct a stellar interview, build a new relationship or simply become the best conversationalist in the room.
Good interviewers always study up on their subject's background – many even have a staff whose job it is to collect those resources.
If you can do so in advance, research the person or people with whom you'll be speaking. A bit of familiarity will make you feel more confident – and will prime your subject to open up to you.
"My former boss and idol for many years as a viewer, Jack Paar, called me before I started doing a talk show and said, 'Hey kid, don't do interviews.' And I said, 'What do I do, then, sing or just read to the audience?' And he said, 'No, interviews are boring. That's just 'What's your favorite color?' and that's dull. Make it a conversation.' And that's almost the best secret. Throw your notes aside, if necessary.'"
"I don't do a hell of a lot of research. I go on a sort of kindred-spirit bonding that preexists the interview, and just see what unfolds. I'm just looking for authentic engagement of some kind … Some people just want to answer questions, but a lot of times, all of a sudden you drift away, and you don't remember you're on the mic, and you're in something real. That, to me, is great."
Body language can also help defuse a tough conversation or argument (try moving so you're facing the same direction as the person in question) and let you know when your subject is ready to leave the conversation (Are their feet facing toward the door? Time to let them go).
"There's no generic one question to me. It would depend who the person is. I think one of the things about interviewing is that you don't ask the same thing of everyone. It would really depend. Is that person a painter? Are they an avant-garde jazz musician? Are they a politician, a priest? Who are they?"
What seems like the simplest part of holding a conversation or conducting an interview is often the trickiest. It's listening--the right way.
Skilled interviewers become adept at listening not just to the words their subject is saying but also the tone in which the words are said, the pauses and nuances of the answer and what's being left unsaid.
This active, flexible listening lets them know when to move onto a new subject and when the moment is ripe to probe a little deeper with a follow-up question.
"Nothing is worse for me as a viewer than to watch someone go down a laundry list of questions and not explore something with a little more depth after someone has answered a question … I think you need to use your questions as sort of a template, but you have to be willing to listen and veer off in a totally different direction."
"Eventually, I developed a memory technique from my friend, Harry Lorayne, the memory expert, of creating an outrageous image. Like if they were caught stealing an apple as a kid, but then they start talking about something else, you picture picking up an apple and throwing it in the face of, I don't know, Mitt Romney or some prominent person. And that sort of startling image will trigger 'apple' for you later on."
Remember that dreaded lull we talked about earlier? Sometimes – just sometimes – it can be a useful communications tool.
When a pro interviewer feels a subject is holding something back on a particular topic, they'll often use the power of silence at the end of the answer to draw out more information.
"If you resist the temptation to respond too quickly to the answer, you'll discover something almost magical. The other person will either expand on what he's already said or he'll go in a different direction. Either way, he's expanding his response, and you get a clear view into his head and heart."
Try counting to three – or five if you can stand it – after your subject answers a tough or thoughtful question. This method can seem agonizing at first, but – used with empathy – it works wonders to develop a deeper rapport between two people.
"You can hold someone with silence and make them go on. You tend to feel you need to fill all dead air. There are times when if you just say no more than 'uh-huh,' and pause, they'll add something out of a kind of desperation that turns out to be pretty good. Let them sweat a little and then they'll come up with something that they were perhaps not going to say."
All of these techniques are tried and true, but they don't really work without one simple quality on the interviewer's part: curiosity.
"I used to wander around. I never knew exactly what I was looking for. I knew vaguely what I hoped to find or I had some rough idea, but I was in the exploratory mode all the time … Just go out and discover and you'll find by chance, by accident some terrific stories, some terrific people you never thought you would meet."
You can cultivate curiosity in your daily life by noticing more details, delving deeply into the ideas that grab your interest and being alert to those around you and what makes them light up.
"You can make more friends in two months by becoming interested in other people than you can in two years by trying to get other people interested in you."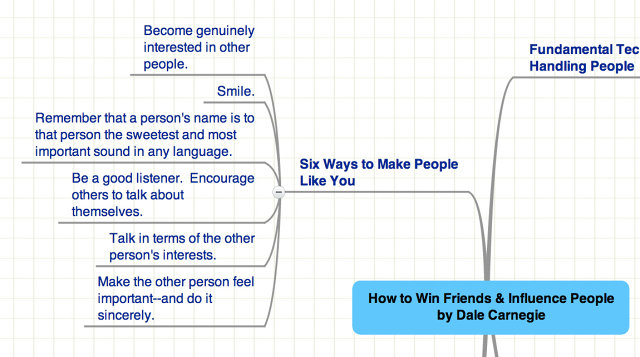 Of course we'd all like to think of ourselves as attentive, curious students of the world, but one little thing gets in the way: our own egos.
"Most times, when two individuals engage in a conversation, each patiently waits for the other person to be done with whatever story he or she is telling. Then, the other person tells his or her own story, usually on a related topic and often times in an attempt to have a better and more interesting story. Individuals practicing good ego suspension would continue to encourage the other individual to talk about his or her story, neglecting their own need to share what they think is a great story."
At the next gathering you attend, resist the urge to tell that one story that always kills and instead focus on asking questions of someone new. It may be unfulfilling at first, but you might be amazed at the end result.
Posted by

HCW
at 8:21:00 PM
No comments:
Links to this post


Monday, August 25
6 SIMPLE HABITS TO KEEP YOU CONSISTENTLY HAPPY EVERY DAY
BUFFER CEO AND FOUNDER JOEL GASCOIGNE TELLS US THE SECRET TO HIS HAPPINESS REGIME.
One of the things I love about running my own startup is that I have complete freedom to experiment with my daily routine.
"I get up at 6:00 a.m. every day, even on weekends and vacation, because I love it."
"We found that people who are more physically active have more pleasant-activated feelings than people who are less active"--

Amanda Hyde
In the last three years, I've gone from dabbling with exercise to it becoming something I do every weekday without fail. At first I had no idea what to do at the gym, so I asked my brother, who's a personal trainer. I then went a few times with a good friend and soon I was hooked.
"The richest, happiest, and most productive lives are characterized by the ability to fully engage in the challenge at hand, but also to disengage periodically and seek renewal"--Loehr and Schwarz,

The Power of Full Engagement
As I mentioned earlier, a key way I am able to wake up at 6 a.m. is through my ritual of disengaging in the evening. I go for a walk at 9:30 p.m., along a route which I've done many times before. Since the route is already decided and is the same every time, I am simply walking and doing nothing else. This prompts reflection and relaxation.
"Being in the moment, focusing completely on a single task, and finding a sense of calm and happiness in your work. Flow is exactly that."--

Leo Babauta
One thing I've found during my time working on Buffer, is that a key reason I've been happy for most of that time is that I've consistently had new challenges to take on. It may seem odd that new challenges can equate to happiness, but it is the times when I've slipped into a few weeks of working on something I already know well, that have led me to feel less happy than I want to be.
"If your entire ego and identity is vested in your startup, where there are certainly factors outside of your control, you can get into a depressive funk that affects your ability to function. So, you should also, let's say, join a rock climbing gym. Try to improve your time in the mile. Something like that. I recommend at least one physical activity. Then even if everything goes south--you have some horrible divorce agreement with your co-founder--if you had a good week and set a personal record in the gym or on the track or wherever, that can still be a good week."
Posted by

HCW
at 10:48:00 PM
No comments:
Links to this post